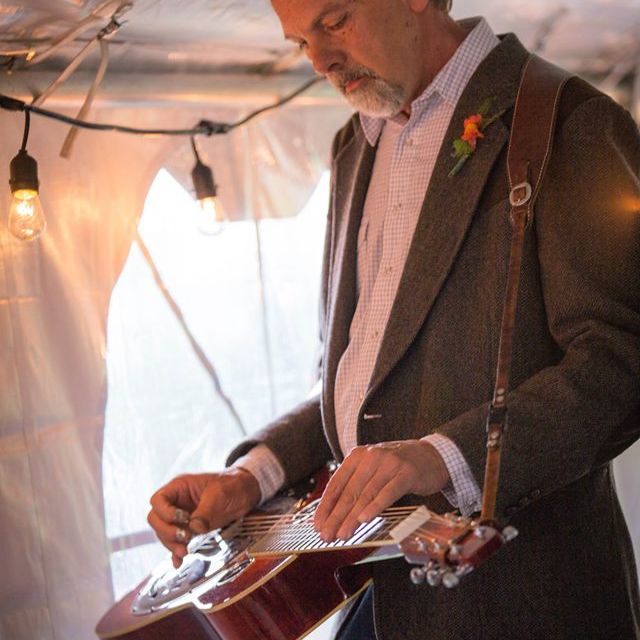 Greg Booth's path to the dobro was a winding road that started with the banjo and lessons from banjo legend Bill Emerson. After a few years, Greg's ambition turned to the pedal steel guitar and the last frontier, Alaska. A thriving music scene during the oil boom of the '70s and '80s gave him the chance to play as much as 7 nights a week and 7 hours a night for many years. That much time playing diverse music forged a style that is uniquely his own. When Greg finally picked up the dobro, he hit the ground running, winning the RockyGrass dobro competition after playing the instrument just one year. Interest in Greg's dobro playing took off with his YouTube channel of 30+ dobro videos. Viewed up to 12,000 times daily it surpassed 5 million views this year with more than 10,000 subscribers. A regular instructor at Rob Icke's ResoSummit, Greg has also taught at many music camps in the US and abroad. Greg plays dobro and banjo with the Kathy Kallick Band and appears on six of Kathy's band and solo albums. 
What other players say about Greg Booth:
"I have always been impressed with Greg's playing. He is a master musician who brings a unique perspective to the Dobro, aided by his years of experience on other instruments such as banjo and pedal steel. I've been playing for a long time, and yet when I hear Greg play, I am inspired to think of new ways to approach songs. I appreciate the creativity and thought he has brought to this instrument, and I look forward to any new recording project he puts out."
– Rob Ickes (2016) – 15-time IBMA Dobro Player of the Year
"Greg Booth is a players' player, a kind of musician's touchstone. Every note he plays counts. He brings a soulful depth and tone to his slide playing and shows such musical respect within those notes. I could — and I often do — listen to his playing on end, knowing that I will always find inspired ideas and phrases that are not mined solely from other Dobro players' styles. For my money, Greg Booth stands out amongst all players as a real individual. I count him as one of those important players: original, caring, soulful with great ideas that come to fruition in the best possible way. I could not ask for more than that in a world often full of imitators."
– Sally Van Meter (2016) – Grammy-winning recording artist and producer
"I first knew Greg Booth through his videos on Youtube. His music really caught my ear because his approach was so different than any I had ever heard. His detailed melodies, tone and attack just made me want to hear more. I finally met Greg at ResoSummit a few years back, where we both served as instructors. After that weekend, I not only found a new favorite player, but also a dear friend. I have heard Greg on video, heard him play live, and listened to him teach. He never ceases to amaze me. Constantly creating and playing just what a song needs. With The Kathy Kallick Band he becomes another voice. He has brought a whole new sound to the resonator guitar … and I like it !!!!"
– Phil Leadbetter (2016) – IBMA Dobro Player of the Year 2005, 2014 and 2019.